Events/Classes
OPEN SHOOT ADMISSION
SUNDAY, AUGUST 12th 1-5pm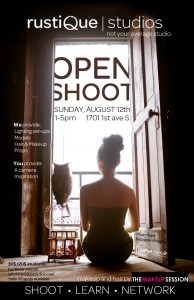 RustiQue | studios will be offering a wide array of open photography and art events, small workshop series and seminars.
UPCOMING:
EVENTS
Open Shoot, August 12th, 1-5pm
WE provide professional models, lighting setups, makeup artists, props, etc.
YOU bring your camera, come and shoot, experiment, and walk away with new ideas and networking!
Free snacks and drinks provided.
PLEASE RSVP, WE ONLY HAVE 20 spots for photographers!
30$/20$ w/student id
>>PHOTOGRAPHERS!<<
PHOTOWALK :: First Saturday of every month, 1-3pm, free
We will be going on a photography excursion starting at the space at 1pm and wandering around the urban haven of the SODO district to play with location lighting!
This event is open to all photographers, models, friends, and pets.
>>FILMMAKERS!<<
SHOW YOUR SHORTS:: Third Sunday of every month, 5:30-8pm, free
Join TEAM AWESOME and RustiQue Studios every third Sunday of the month for SHOW YOUR SHORTS film screenings and networking sessions!

This is an opportunity to meet great people, network with the Seattle film scene and watch awesome short films. Think of it as a "open mic
night" for Seattle Filmmakers where you can bring your films to show
the community, share thoughts, and discuss the film.

HOW IT WORKS:
-The first film will be from Team Awesome, all others are first come first shown (in order of arrival)
-Films start at 5:30
-Films should be no longer than 20 minutes.
-Everyone who shows a film will receive critique notecards from the audience, as well as a Q&A at the end, a great way to grow as a filmmaker!

FREE POPCORN + LIQUIDS!

Suggested $5 donation at the door to support our studio!
>>ARTISTS!<<
ARTWALK AFTERHOURS
First Thursday of every month, 8-11pm, free
After-hours following the Pioneer Square art walk, featuring new 2d art on our gallery wall every month, 3d sculpture works, and video art.
Interstitial Theatre holds their openings during this event, a curation of contemporary video art.
Free drinks and popcorn!

CLASSES

to sign up for these classes, please e-mail [email protected]

COME LEARN PHOTOGRAPHY WITH PHIL, PAUL, and JULIA
DATE TBA, 50$
Bring your questions, cameras, and curiousity as Phil, Paul and Julia share their process of photo-making from start to finish.
We will learn how your cameras work, why they work that way, and how to manipulate their lighting input to create the image of your dreams.
Phil, Paul, and Julia all specialize in different types of photography and processing, so with their powers combined…anything is possible.
-
INTRODUCTION TO FINAL CUT PRO WITH JULIA
DATE TBA, $150

Learn how to maneuver one of the world's most powerful editing tools.
Julia will not only cover how to find your way around the program, but also tips and tricks on how to edit.